Laporan X
Read more!
|
0 comments
Baru baru ini si Dr Irfan baru sahaja launch e-book barunya pasal teknik teknik affiliate marketing. Ada 25 tip hebat untuk memperbaiki sebagai affiliate marketeer.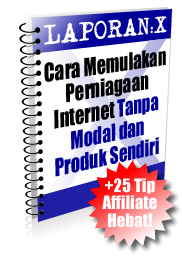 Dah order dah ni. Tapi ebook belum sampai. Jadi kita tunggu kan email dia. Mungkin nanti kita share share sikit tips here and there but now tak leh bilang ah pasal belum BACA! Nak tahu lebih lanjut pasal buku ini sila lungsuri
www.irfankhairi.com
Visit
http://www.fadzuli.com
for the FULL article.