Laporan X review
Read more!
|
0 comments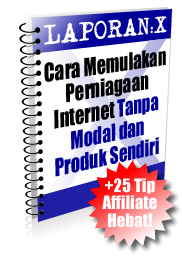 There are 2 parts of the ebook. One introducing to you on Affiliate Marketing and secondly the wonderful tips on how to be an effective affiliate. Well I have a few articles which you can read on about affiliate marketing, you just need to search my blog for it. Or ask me for the link. Use my contact page to contact me.
So the 25 hot tips..
1) Get serious in Affiliate Marketing. Treat it like a business. 2) Focus on Industry 3) Understand the product/service that you are promoting. 3) Giving confidence not selling. 5) Always keep on educating yourself in Internet Marketing. 6) Choose the appropriate affiliate program for you. 7) There is no such thing as an easy way 8) Free or Must Pay? 9) Collect your leads.. 10) Sell products that you believe in and have tried before. 11) Give testimonials 12) Give reviews from your heart 13) Use the affiliates as part of the program. 14) Using Domains & Webhosting 15) Use Youtube 16) Create your own marketing materials 17) Advertise on relevant popoular sites 18) Learn SEO 19) Get your ads to appear in every single page. 20) Value Add to the Affiliate Product. Give them a hot product/review if they buy the product from that link. 21) Give away a free ebook. 22) Use offline strategies too. 23) Gunakan Adwords or PPC Marketing 24) Write and submit articles. 25) Combine all strategies to form a campaign. A great reference product I would say. Will be sharing more of this to my VIS students. I like point 20. What it says that instead of just promoting the link. Why not you package your own free stuff with the affiliate link.
Example. If I have free ebook on Affiliate Marketing Basics and tutorials and videos. So what I can do is to link up with Dr Irfan and ask him tell him that I want to hel [...]

Visit http://www.fadzuli.com for the FULL article.